Development and Evaluation of New Forms of Therapy for Chronic Skin Diseases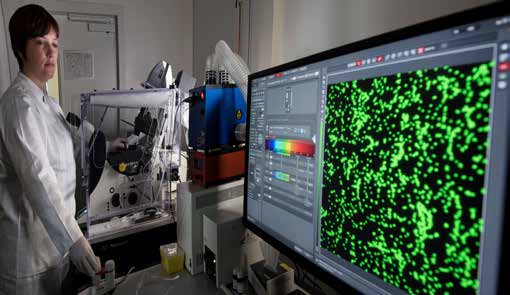 Chronically open wounds are one of the most frequent diseases and burden the German health system with eight million euro per year. They are caused by widely spread diseases such as diabetes, and mostly affect older people. A proper, reliable and, above all, timely therapy is able to reduce the number of amputations by half, such as in the case of diabetic foot syndrome. Coordinated by Fraunhofer ISC, researchers at five Fraunhofer institutes have pooled their competencies for the evaluation and development of effective and affordable forms of chronic wound therapy.

An essential element is an in-vitro wound model for chronic wounds on the basis of an already existing model of healthy skin. By injecting cytokine proteins, which regulate growth and the differentiation of the cells, a special wound environment is created in the model that is characteristic for chronic wounds. The prepared skin model is standardized and reproducibly wounded. The result is the desired chronic wound model. Fraunhofer ISC designed and built the "ARTcut® – A rtificial Tissue Cutter" appliance for this purpose.

The new in-vitro wound model allows the testing of different forms of therapy in very early stages. Wound dressings as well as silica gel fiber fleece developed by Fraunhofer ISC, pharmaceutical ingredients or a combination of both can be tested for their effectiveness. In addition, these types of models are a long-term alternative to animal testing.

Monitoring wounds with biofunctionalized nanoparticles via smartphone
A further development in the "SkinHeal" project serves the improvement of fluorescence-based imaging which provides doctors, medical personnel and, in the long term, the patients themselves with information on whether the wound is healing as expected. Surface-modified luminescent nanoparticles developed at Fraunhofer ISC that bind on biomarkers characteristic for wound healing are applied for an effective optical imaging. A certain ratio of these biomarkers identifies the healing status of the wound and provides an indicator for a normal, i.e. healthy, or chronic progression. If the fluorescent particles cannot form a bond due to missing biomarkers, they are eliminated by the body. In the long term, regular pictures of the wound situation made by the patient or their carers would be possible, e.g. via smartphone, so that the situation can be further monitored from home. A first prototype has been developed that makes analysis possible with images of the macrophages´ distribution.

Cost reduction in material development
The new in-vitro wound model can, of course, also be used in other areas of research such as in the development of new substances and medication. An immense savings potential per substance is possible as the result of a faster and more efficient selection of suitable substances. In addition, clinical studies can be much more efficiently planned with the results of corresponding in vitro pretests, and necessary animal tests can be reduced to a minimum.