Process Development for the Sequential Preforming of Semi-Finished Products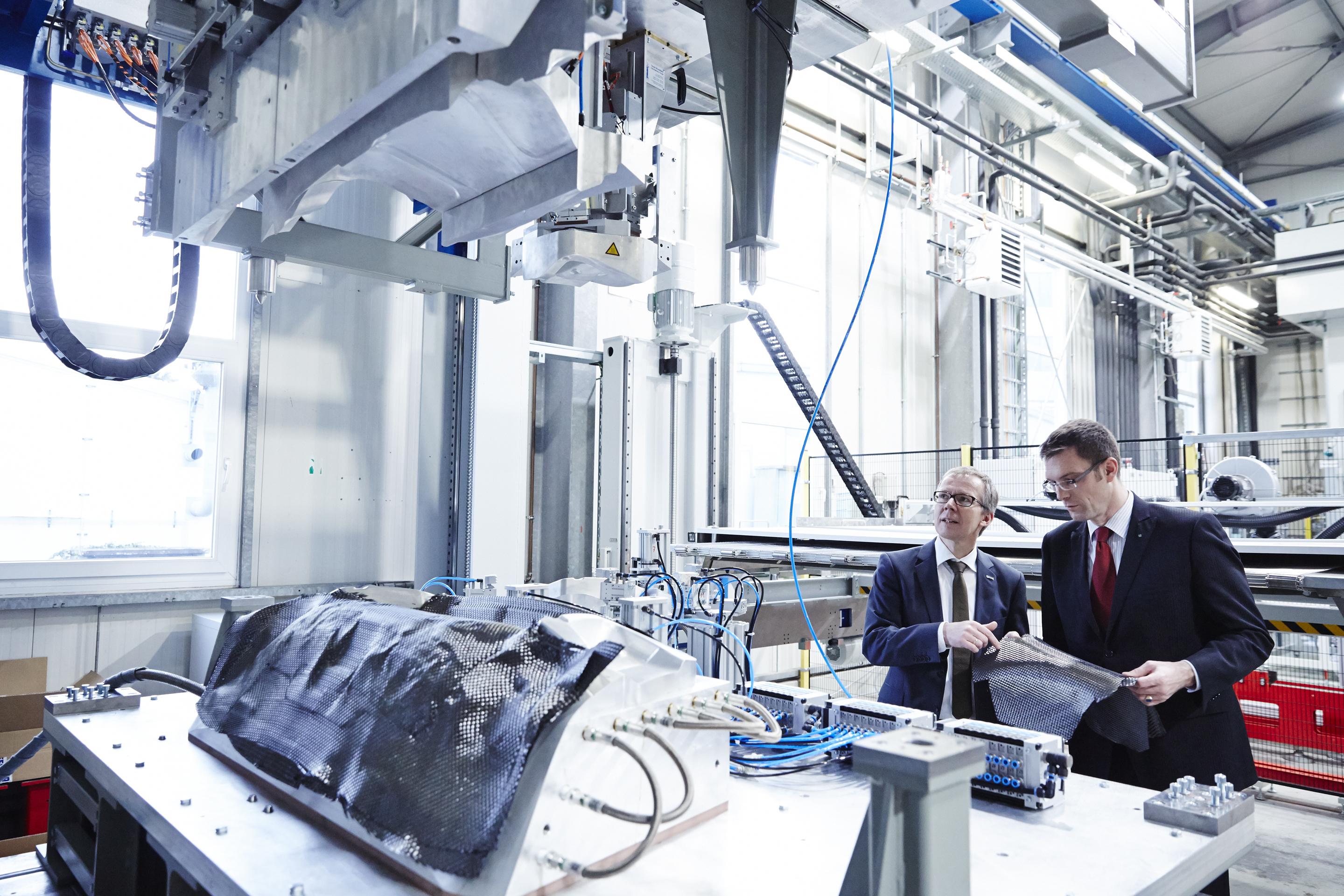 Climate change and its consequences are pushing societies worldwide to adopt a more energy- and resource-efficient lifestyle. Global warming can only be curbed in the long term if the emission of greenhouse gases is greatly reduced over the next years. Since the energy consumption of vehicles directly determines the amount of pollutants that are emitted, the strategic relevance of lightweight construction in the automobile industry will increase in the future.

Fiber-reinforced polymers are being used with greater frequency in addition to established lightweight construction materials. These polymers have great potential due to their density-specific material properties. High-performance composites with a high fiber volume are of especial interest because of their excellent mechanical properties. In particular anisotropic layer constructions, oriented according to the load path, enable the production of high-strength structural components suitable for lightweight applications. Automated, robust and quality-assured manufacturing technologies are needed in the future in order to successfully introduce this material system to large-scale automotive production.

The Technology Cluster Composites (TC2) focused, among other things, on the industrialization of RTM process chains for the manufacture of structural components for automotive lightweight construction. An outstanding feature of TC2 was an integrated approach to technological challenges that was not based on individual problems but focused on connections and interactions within continuous process chains.

The cost structure of the RTM process chain is a strong argument for the implementation of automated preforming. The automatization of handling operations as well as the reshaping process (draping) within the preforming procedure can drastically reduce production cycle times, which leads to a significant reduction in overall RTM production costs. At the same time, the reproducibility of component quality increases as the degree of automation becomes greater which, in turn, results in a noticeable decrease in the rate of production waste.

Fundamental draping and fixation strategies for preform manufacturing were developed and validated within the framework of TC2 by the participating group partners Fraunhofer ICT, the Institute of Aircraft Design of the University of Stuttgart (IFB), the Institute of Textile Technology and Process Engineering Denkendorf, the Institute of Production Science (wbk) and the Institute of Vehicle Systems Technology of the Karlsruhe Institute of Technology. The sequential reshaping of entire layer constructions using a multiple-stamp mold has proven to be the best method for the automated manufacture of components with complex geometries. In this method, the layer constructions are locally prestressed. The local application of reactive binding systems has proven to work best for fixing the shape and position of textile semi-finished products. Dieffenbacher GmbH created a PreformCenter at Fraunhofer ICT for automated preform manufacturing on the basis of this preliminary work. The new technology makes it possible to investigate the complete preform manufacturing process from layer cutting and the application of binders through to shaping. The individual processing steps are linked by a handling technology consisting of selected grippers acting as robot end effectors.