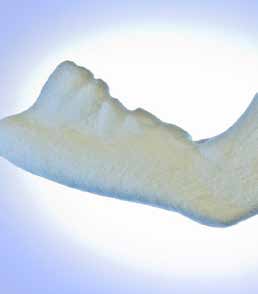 Difficult ceramic components were previously injection molded requiring intensive use of tools, or manufactured with high material losses from green, isostatic moldings. New additive manufacturing methods open up completely new paths for ceramics. These enable the production of
components without additional tools and with complex geometries that up to now could not be achieved by any other shaping method. What was exclusively possible in the plastics and metal industry so far is now utilized by Fraunhofer researchers for the production of complicated
geometries made of long-term stable, temperature, wear and corrosion resistant ceramics.

Solely from CAD data, free-form surfaces, undercuts, inner channels or hollow structures are built layer by layer, resulting in individual components. At the same time, small series can be realized quickly and economically for the jewelry and microreaction industries, equipment
or medical technology. For example, patient-specific implants, whose form and quality are adapted to individual requirements, can be efficiently manufactured. In addition, scientists develop customized instruments for minimally invasive surgery that in the future can serve different functions in one step by means of integrated fluidic, sensor or thermal elements.

Currently, research also focuses on developing material systems for multifunctional components from material and shape combinations. Soon, porous, permeable components could be added with solid housing structures. Individual bone structures can be recreated in this manner in order to specifically realize implants for bone cancer patients.