The Crash Center of the Fraunhofer-Gesellschaft at Fraunhofer EMI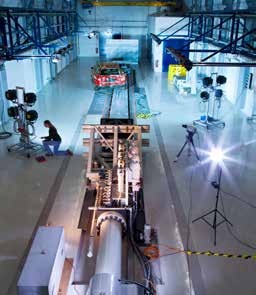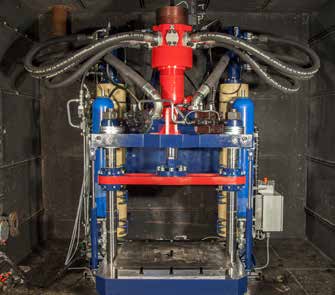 Modern vehicles have to become more safe and, at the same time, more energy-efficient. To achieve this goal, the automobile industry focusses on new, lightweight materials like composites and foamed materials as well as on alternate drives. One of the central areas of research at Fraunhofer EMI is the testing of new materials.

Despite the increasing application of numerical simulation methods, crash tests are still an indispensable part of vehicle development. They supply the basic data for simulation computations and are important for verifying the results. The new research crash-test facility considerably expands the experimental portfolio of the Crash Center of the Fraunhofer-Gesellschaft. Together with the component crash-test facility, it forms the core of the Crash Center. Both facilities can be used flexibly for current issues from the areas of vehicle safety and material research.

Research Crash-Test Facility
The research crash-test facility with a length of 42 meters is operated with a servo-hydraulic catapult. Tests at velocities of up to 80 kilometers per hour and a maximum payload of 3000 kilograms are possible. Different crash variations – frontal, rear and side impact – can be carried out in this facility. With high-speed cameras and 3D deformation analysis, the special measurement and evaluation methods developed at EMI allow for a precise observation of material and component behavior under crash-relevant conditions.

Component Crash-Test Facility
For over ten years, the versatile component crash test facility has been used to test vehicle components such as bumper structures or crash elements for their energy absorption capacity as well as for their deformation and failure behavior at velocities of up to 22 meters per second and a weight of up to 800 kilograms. The 16-meter-long facility is operated with compressed air and also serves to characterize and examine the crash capability of novel materials or material combinations.

Mechanical Behavior of Batteries Under Dynamic Loading – Battery Test Bench
The call for an increase in electric vehicles on our roads requires the application of efficient mobile sources of energy. As a result, electric energy storage systems are growing in importance in the field of mobility. However, as energy density and the overall capacity of available energy storage continually increase, so does their risk potential.

A special test bench for the characterization of lithium ion cells at Fraunhofer EMI allows for the destructive testing of charged battery cells at different load modes from the static to the dynamic range with load velocities of up to 10 meters per second and loads of up to 50 tonnes. Different cell types can be examined with this apparatus with respect to their deformation behavior under various conditions.

A further effective possibility of researching batteries that have undergone compression, crushing or other types of destruction is by computed tomography (CT). This allows the visualization of the interior of a cell before and after a test and enables the analysis of damage.